Engaged Film Is a Result of Listening to the World Around Us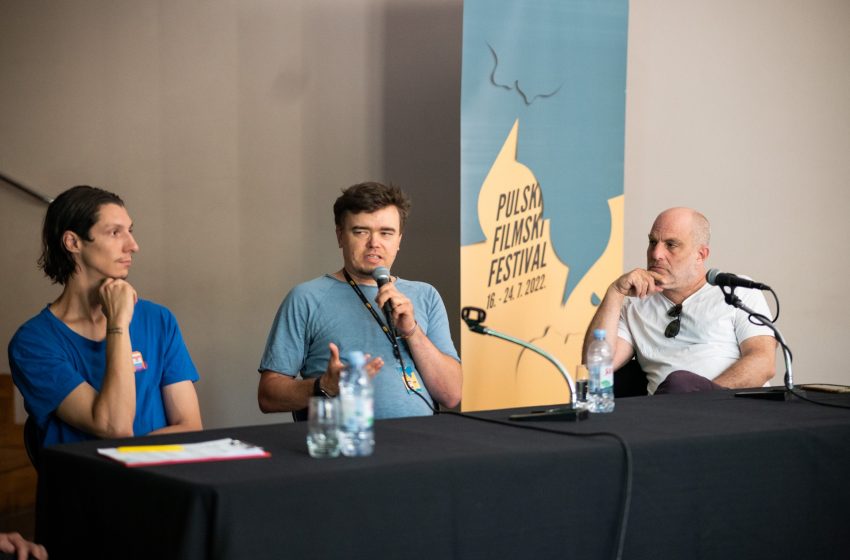 Engaged Film Is a Result of Listening to the World Around Us
Four directors spoke at the panel Engaged Film Today: Why Do We Make Films? Boško Picula was the moderator, and the speakers were Eran Kolirin from Israel, Jan P. Matuszyński from Poland, Maksym Nakonechnyi from Ukraine, and host Vinko Brešan, who participated remotely via Zoom.
Brešan said in the introduction that engaged film for him is any film speaking about human lives and social issues, while Nakonechnyi (Butterfly Vision, International Programme) said engaged film is aware that film stories come from reality.
The moderator asked the interesting question whether it is possible to make engaged film at the time of autocracy, and Matuszyński answered that he made his project (Leave No Traces, International Programme) in fear and that we have to believe that it is possible for film to change the world, however small that chances are. Kolin said his primary intention was not to make an engaged film (Let It Be Morning, International Programme), and that engaged film is a result of listening to the world around us.
Brešan said that comedy is the best genre to speak about something problematic. Nakonechnyi built on that and said that irony and humour can be a way of hiding the problem, because the premise "If we can't do anything about it, then we'll laugh about it" applies. His film has not been screened in his home country Ukraine, but it was the opening film at this year's Vukovar Film Festival. Following the screening, the cast was approached by the locals saying "Your film is about us".
Clips from the films by Polish and Israeli director were shown at the panel, as well as Brešan's film The Priest's Children. The moderator said that Brešan's 1996 film How the War Started on My Island was very brave because it was released a year after the Homeland War. Brešan explained that he wanted to create a story opposite from the one that was present in the society at the time, and that this is why people say that he is brave.
Matuszyński thinks that film should not be making any political statements, because if it does, it is not a good film, and that the creative process requires severing any self-censorship. He added he does not want to impose his attitudes on the audience, and that he is not interested in what the audience will be imagining when watching the film.
Kolirin said he will always question his beliefs because everyone has their own arguments  and that he doesn't want to be patronising. He also said that banality is what drives the system, not extreme evil or any saints. He noticed that the audience is more interested in cultural events that the watching of films, and that it is important to find a structure to show people films.
The Friday panel attracted a good number of students, as well as professionals, and marked the end of this year's diverse industry and educational programme. The Industry Programme focused on the many phases of preparation, production, sales and marketing of film, and there was a lot of discussion on the topical issues of the film industry, as well as how to best overcome the uncertain and unpredictable times of today.